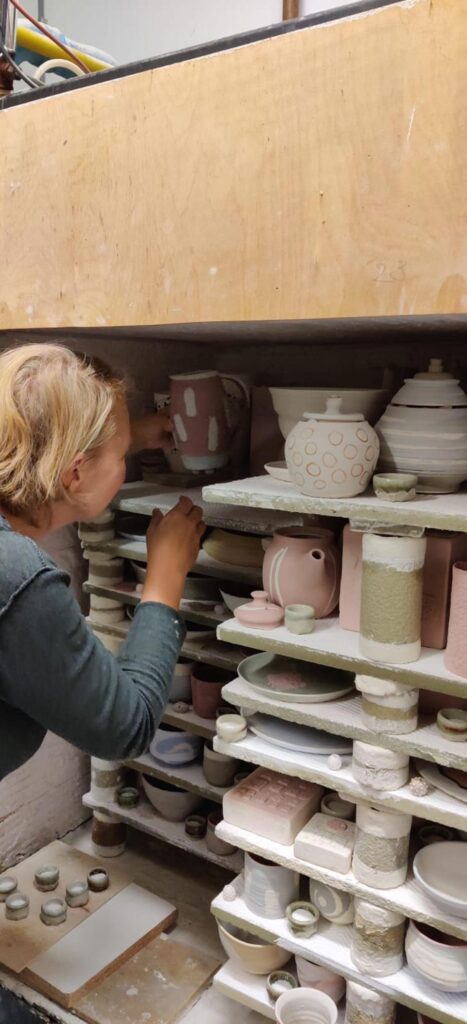 Firing ceramics in a salt kiln is a technique that started in Germany in the 15th century. A firing technique then used for production ceramics, storage jars. Ceramics fired in a salt kiln are fired at a high temperature, making them very strong and very resistant to acids due to the glaze layer created with salt. Which makes it well suited for consumer goods. Then also very suitable for sauerkraut pots and today resistant to the harsh ingredients of the dishwasher tablet.
In addition to the work that Hoeboer fires in her own studio in an electric kiln, since 2016 she has also regularly fired her work in salt kilns. She first became acquainted with salt-making in Friesland in the studio of Her Comis and Pauline Ploeger. She did an internship there for a few months and learned to spin at this place. During this internship, seeing and using salt-fired consumables and experiencing a salt firing made a big impression on her. She carried this with her throughout her ceramics career and only found the space and opportunity in 2016 to start working with this technique herself. The re-acquaintance began in Hungary, Keckskemet. In a ceramics center where she followed a masterclass with Sandy Lockwood for two weeks. In the years that followed, she was allowed to stoke and co-fire several wood-salt kilns in La Borne, France. The wood-salt oven of Le Center in La Borne, and the wood-salt oven of Jeltje Borneman. She also regularly fires at Phoenix-cultuur in Veghel, a gas-fired salt oven.
`Het zoutgestookte werk heb ik niet meteen naar buiten gebracht. Ik moest het mij eerst eigen maken. Ik wilde uitzoeken hoe zoutstoken mijn werk zou kunnen versterken en welke kant ik met het zoutstoken op wilde. Na veel proeven, mislukkingen en experimenten ben ik met het zoutstoken gekomen waar ik wezen wil. Al is het een nooit eindigend leerproces.
Wat zoutstook voor mijn werk zo geschikt maakt is dat het een heel directe en eerlijke manier van decoreren is. Elke spoor van het draaien is zichtbaar en wordt zelfs geaccentueerd. De kleur wordt aangebracht met slibs en een glazuurlaag ontstaat in de oven doordat het zout de klei zelf verglaasd. Hierdoor is het glazuur niet een extra laag over de klei heen.
Mijn anders altijd voornamelijk witte werk krijgt door de zoutstook nu ook kleur, maar op een manier waarop het niets verdoezeld of afdekt. Het decoreren is al in een vroeg stadium, net na het draaien, onderdeel van het maak proces. Het werken met verschillende slibs, het overlappen met glazuren, de plek in de oven, de reductie en de hoeveelheid zout die het werk vangt, al deze aspecten vormen samen een heel gelaagd eindresultaat. Een kopje is ook nooit aan elke kant hetzelfde. Er kan ook een zogenaamde sinaasappelhuid ontstaan waar de scherf veel zout heeft gevangen`